Dillinger / AFI

These last couple days have been so crazy. Thursday night was the Dillinger Escape Plan and AFI show. Ewan decided to be a sweetheart and put me on guest list. I went down to the show with Cole and his friend Kyle. When I got to the doors there was a ticket for me but no pass. I kinda panicked. Tried to get a hold of Ewan but no such luck. I went to the side of the stage to ask one of the security guards if he happened to know where I could find him. He didn't know, but let me go backstage anyway. I wish I knew it was that easy. I missed the first few songs into Dillinger's set, but never the less they were incredible. After they finished I saw a few friends. Mostly chatted with the security guard till I found Ewan. :)
When AFI came on, I went to sit on the side of the stage to watch. I really wish I had a camera with me. I looked over to my right and saw Greg and Ben from Dillinger. I lean over to Ben and told him I enjoyed their set but it would have been better without barriers like shows they've played at the opera house. He just looked at me and said "I knew I recognized you!" Anyhow I'll skip ahead to when AFI finishes and we're all backstage. There was a bunch of people just standing around talking so Ben and I decided to go on a scavenger hunt around the kool haus to see what people left behind. We found a pvc purse with a tampon in it. We found a shoe. Who leaves a show with one shoe?!
Finally we left the venue and made our way to the tour bus. Watched a MANOWAR dvd while we made our way to the after party. We ended up at Machine Head. I've never been there before. After walking in we soon realized how ManOWar that place was. I loved it. I also ended up running into a few people there as well. The whole time there, Ben and I were trying to get rid of our drink tickets. We tried wasting them on juice, but they gave us them for free. Also, some dude who worked there was taking random photos of people. I wanna find the site. I know I'm rambling but now I'm getting to the good part. We spot Hayden Christensen and convince him to come back to the bus with us! Ben and I run ahead to make sure Greg's awake. He's apparently a huge star wars fanatic. So, we get back to the bus, find him, and tell him we have a surprise coming. About five minutes later Hayden comes on the bus and Greg has no idea who he is at first. When he realized, he freaked the fuck out. I was having such a good time I totally lost track of time. It was just after three and I had to take the vomit commit home. Ben was nice enough to walk me to the bus stop and text me when I got home to make sure I arrived safely.
And as if that wasn't enough, he text me the next morning to say if I wanted to come to the London show, he'd put me on guest list and a pass. I gathered up Caroline, TBone, and Steph to come along. Muchos fun. The drive was a bit long. Can't say I've ever been to London before.
We got there close to the end of Dillinger's set. :(
Later on I made my way backstage and found the boys. I was startled when they all screamed my name as soon as they saw me. Love those boys. They were giving me shit for not just spending the night with them if I was gonna come to London anyhow.
All in all a super fun night. Went to a yummie diner, played a bunch of street fighter., etc..
Totally lost track of time again and before I knew it, it was past 3. I didn't end up getting home till 6 this morning. My mum was super pissed and wouldn't let me sleep. Said I had to clean all of upstairs until I had to leave for work. So pretty much, I haven't slept since Thursday night.
I'm completely out of it.
Ben text me today to say I should have just stayed on tour with them. I wish!
Anyhow, I have some photos from last night's evens. I don't have any of the night before from lack of camera. I have to get Ben to send me the ones off his cam.
Oh and don't mind the shitty lil AFI pics.



Tbone


Caroline


Steph and me


Weirdo


Ben and I watching AFI from the side of the stage


Fixin his hair per usual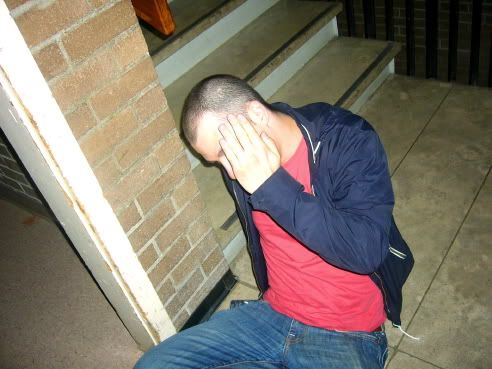 Ben: "I look so high!"


"she farted."


Jumpsuits


I double dared Ben to shove broccoli in his mouth. You can see me in the mirror taking the photo. Neat!


Ohhh baby


High five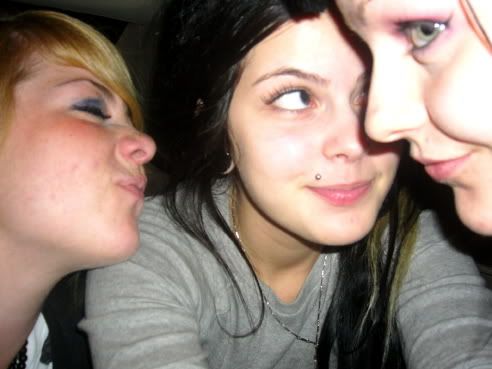 Three lovely ladies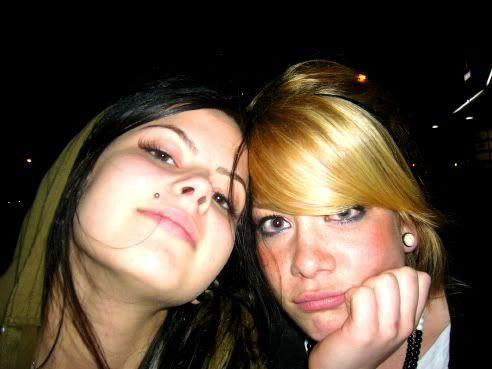 Random truck stop at 4am


69 cent hamburgers! Tbone was so stoked!




We tried a high five holding the cam on our own.


Threesome! Greg, Ben and moi.


Mustashe rides 25 cents. Yeah we upped the cost.


Accidental shot in the tour bus.


My milkshake brings all the boys to the yard.
Comments {14}